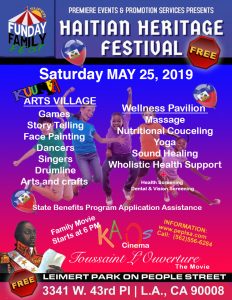 If you're interesting in attending the Haitian Heritage & Wellness Festival, there are a few forms you will need to fill out below:
Organization Registration Form (If you are an organization.)
Release and Waiver of Liability Agreement
Each of these attachments can be downloaded, filled out, and scanned to info@pepsla.com.
For information about children at the event, click here.
If you want to know about our contests, click here.
Premiere Events and Promotion Services would like to invite you out to help us celebrate Haitian Heritage Month at Leimert Park.
In honor of Haitian Heritage Month in May and Haiti Flag Day on 5/18, we want to acknowledge the cultural influence of Haiti globally and locally in Los Angeles. We'll also be honoring influential Haitians on stage.
Our festival features multi-cultural performances, Haiti's rich history told from storytellers such as: Sloan Toussaint Baptiste. The stage will be hosted by MC Haiti and DJ VAG will have us dancing to Haitian and Cari
bbean music and more!
Performances: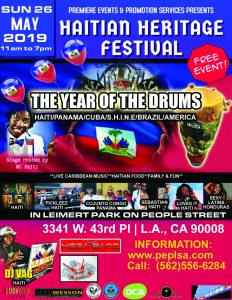 Mc Haiti
Sloan Toussaint Baptiste – Haiti
Pickleez Band – Haiti
Grupo Congo Istmeno de Panama – Panama
Beth LA Common – USA
Romane Simon Actor, Dancer and Movie Producer – Haiti
Sexy Latina – Honduras
Afro Caribbean Drummers
Sebastien Drummer From  Another Universe – Haiti
H.I.N.E. African Women Drummers of The Spirit – Africa
JP LovesIt